Only a few miles from the old Chisholm Trail passing through Lockhart, Texas, lie the lush green pastures of the Schaefer ranch. Tom Schaefer has been in the cattle business for more than 20 years and is a local producer of grass-fed beef and one of the only producers offering grass-finished beef. Only 15 minutes from Lockhart and about 40 minutes from Austin, he provides quality grass-fed beef to Austin and the surrounding community.
Epitomized, remembered and perhaps even embellished upon in more than 25 movies and many popular songs, the Chisholm Trail was used to drive cattle from ranches in Texas to Kansas railheads. In 1964, Texas rancher Charles Schreiner, III, founded the Texas Longhorn Breeders Association of America. The next year, he conducted a cattle drive from San Antonio to Dodge City with a stop at the LBJ Ranch in Gillespie County, home of then U.S. President Lyndon B. Johnson. The drive was promoted as a centennial commemoration of the original Chisholm Trail drives.
A one-thousand mile cattle drive was hard on men and cattle alike and some of both were frequently lost along the trail. Fortunately for all concerned, we no longer place such demands on ourselves or our livestock. Instead we have advanced to the point that our cattle live stress-free and are taken only a few miles to a beef processor where they dry-age in cold storage making the meat tender and flavorful. Heck, some of our cattle are practically Moovie Stars!
We sell processed and vacuume-packaged cuts or if you prefer, you can purchase beef on-the-hoof. We suggest that before you purchase a live animal that you read through our pages, Know Your Beef and On The Hoof so you will understand the many aspects of cuts, live weight vs. yield after processing and very importanly, how to communicate your preferences to the butcher.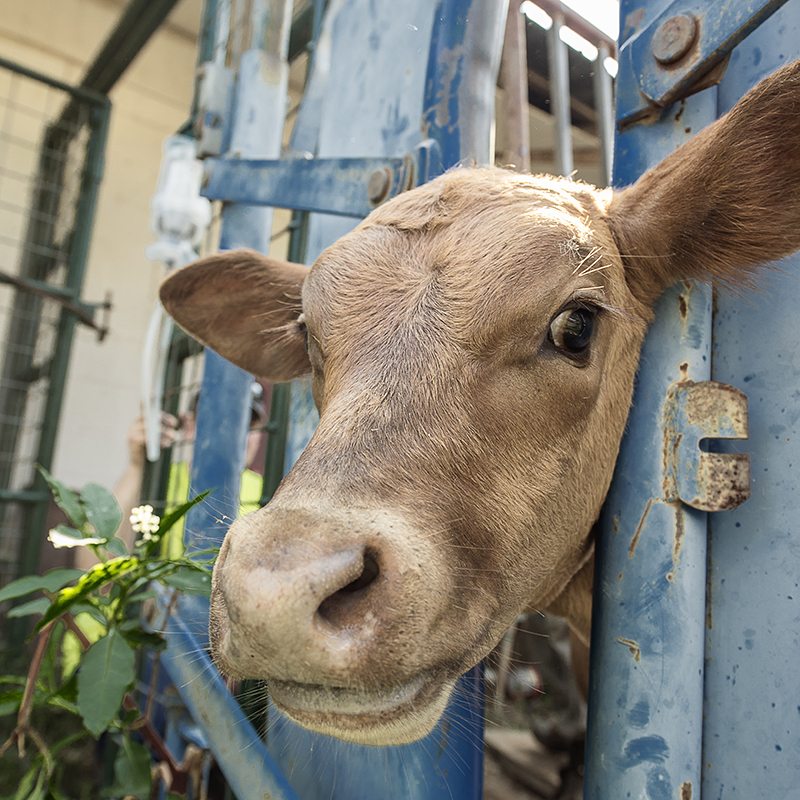 Happy & Healthy Cattle
We started our cattle ranch with the idea to raise quality beef and over the years I've found there are a lot of things I don't like about commercially raised beef. I did not want to do the things that are necessary for high volume and quick turnaround for cattle. Our approach to rasiing cattle utilizes rotational grazing ranch infrastructure and high intensity care for the cattle. I've had all my pastures planted in high protein feed grass called Tifton 85 mixed with some Coastal Bermuda and native grasses. Every January we collect soil samples and send them to Texas A & M University for analysis to determine our fertilizer needs. As Spring approaches we apply fertilizer, which gives us quality grass with the protein levels we require for our cattle. This Fall we'll plant winter oats as a high protein Winter food source. This is high protein vegetation that the cattle graze before the plants develop the seed. It makes for excellent feed grass / forage. It helps sustain them with high protein through the cold winter months.
Making Hay
We bale our own hay so we can control the protein content and make sure it's chemical free (no pesticide or herbicide). We do not put any herbicides on any of our grazing pastures. If we develop a weed problem we control it through mowing, or if we have to, we remove the cattle from that paddock and do spot treatment for specific plants and the cattle are not returned to that paddock for months. After the pastures are found to be free of residual herbicides in any of the plants that paddock can go back into the rotational grazing system.